Connecting for Strategic Business Growth
Our agri-innovation divison: AgriStart
AgriStart enables businesses to  innovate and grow faster.  
We specialise in agrifood and 
agtech innovation programs. 
We provide expert advice and industry connections that fuel growth.  
WA Agtech Delegation to attend Singapore International Agrifood Week (SIAW) 30th October – 2nd November 2023
This opportunity was open to West Australian agrifood and agtech startup businesses looking for connections in Singapore.  Up to 8 were selected for the delegation, with a minimum of 4 places reserved for previous participants of the AgriStart HARVEST program.
Successful recipients received:
$2000 travel voucher to contribute to travel costs for attending SIAW.
Curated introductions and meetings organised with Singapore based researchers, investors, government, consumer groups and other relevant connections depending on needs of each business.
Free ticket to the Agri-Food Tech Expo and access to the WA stand.

EOIs opened on Monday 28th August 2023 and closed at 5pm AWST on Monday 4th September 2023.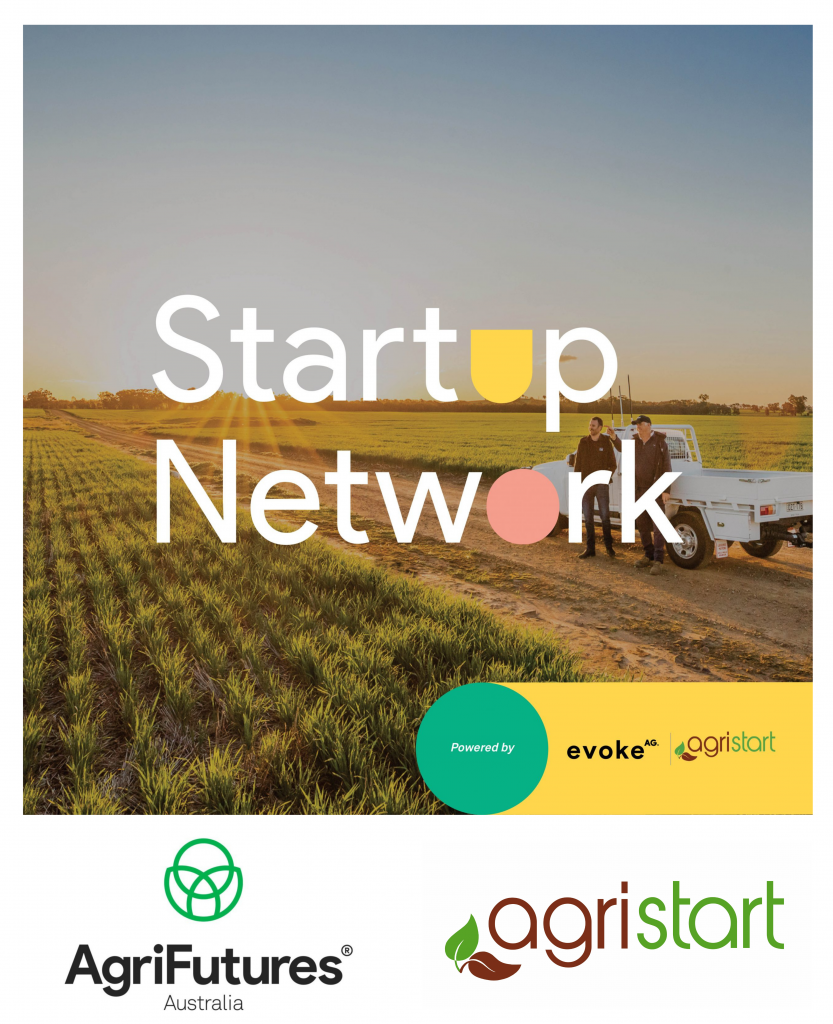 Held in 2021 and 2022, the evokeAG. Startup Network aimed to build the networks and capability of Australian agrifood startups to support adoption of new technologies on farms. 
Each year, up to 10 successful participants received mentorship from industry experts, attended face-to-face workshops, a showcase pitch event and networking dinner in the heart of the Riverina, Wagga Wagga, NSW, the home of AgriFutures Australia.
They also received
Travel reimbursement up to $1,000 to attend the public event in Wagga Wagga, NSW 
Featured in the evokeAG. Startup Directory 
Featured in the evokeAG. Network, including a highlight article and podcast 
Mentorship from growers and industry professionals
Top three grower's choice recipients received a professionally produced pitch video, filmed on-farm, showcasing their agrifood innovation and how they can offer return on investment for their customers. 
Click here for more information.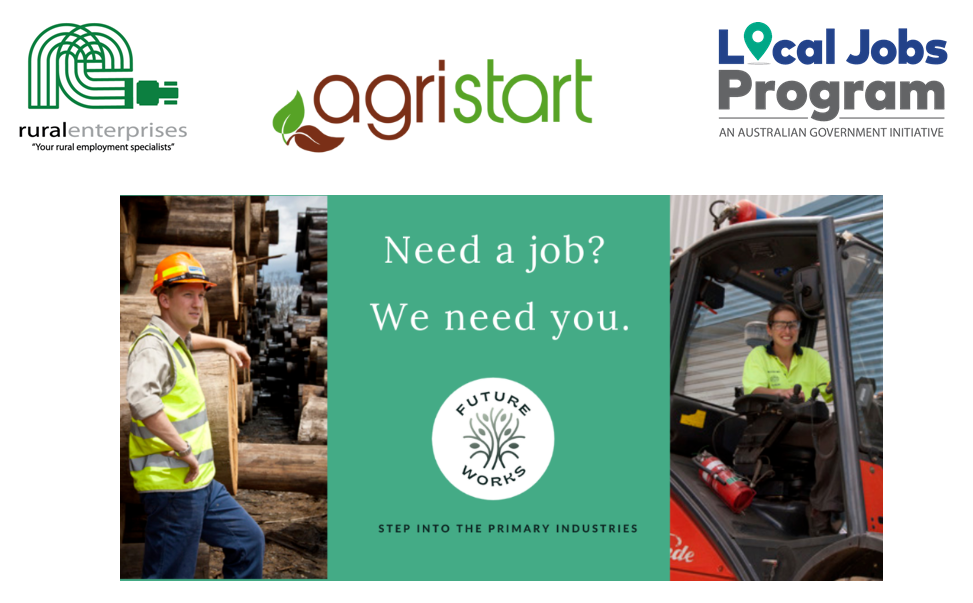 On 1 September 2020, the Australian Government, as part of the economic response to the COVID-19 pandemic, announced the Local Jobs Program in 25 Employment Regions. 
In support of this, Rural Enterprises Australia, in conjunction with Agristart, created an LJP program called Future Works, which was completed in June 2022.  This was supported by funding from the Australian Government through the Local Jobs Program, and was designed to address the key labour shortage experienced in the primary industries sector in the South West WA. 
The objective of the Future Works program was to increase local employment opportunities for local job seekers and equip Participants with knowledge, skills and confidence for sustained employment in the industry.  The Future Works program ensured a targeted approach to increasing the knowledge and understanding of the diversity of careers available in the primary industry of Agriculture, particularly Horticulture and Viticulture.  This was achieved through:
Field Trips to four local employers in the Manjimup and Bunbury/Harvey regions;

Tailored Job Readiness workshops – two day sessions held across three locations – Vasse, Bunbury and Harvey.

Six online videos created to promote the Local Jobs Program:
Northern Valley Packers

Newtons Orchard

Callum, Trainee Manager

Karlee, Supervisor

Ellise, Quality Control

Ben, Dispatch
Ready to grow your business but not sure how?
"HARVEST helped us by raising our domestic profile and focusing our attention in a different way when strategically analysing our business. It also helped with direct introductions to supply partners, government and industry bodies. An amazing platform for people to utilise and take advantage of the opportunities presented."
"We've been passionately trying to expand our reach into the regions and the inclusive nature of the HARVEST program, the ability to bring the team through at different stages and different times of availability, allowed us - during an extraordinarily difficult & challenging time - to make some fantastic connections into Wheatbelt distribution. And through connections we've been able to make solid inroads to regional access, and do business the way we always wanted - ethically, and co-operatively with other brands. Almost on a daily basis, we're expanding our state based reach and the contacts and people we've worked with are countless, and majority are a direct result of HARVEST."
"Innovation and change is needed to address the issues we are facing in the ag industry and this is a driver of the Government's support for initiatives such as the HARVEST Agtech Accelerator. HARVEST is helping to grow the businesses that will future proof WA's agriculture sector and provide technological solutions to help our industry. HARVEST is empowering innovators to turn good ideas into great ideas and then into commercial success stories."
"Thank you for a priceless opportunity to connect with tech companies, build relationships with farmers and stakeholders. The main benefits were understanding of financials, making connections with others relevant to the business, learning to pitch, refining our story for sharing, networking including meeting with industry decision makers like the Minister for Agriculture. We feel that the benefits above also helped us succeed in obtaining a Regional Economic Development Grant and Nuffield Scholarship."
"HARVEST opened the door to the agricultural sector with introductions to the big players, for example the CEO of Ag World, and taught me how to talk to farmers to discover their pain points and bring them into the process early while creating the foundations of the technology to help the GeoMoby team construct a roadmap to provide a range of solutions to drastically improve farmers' locations based services. I am currently in negotiations with two large overseas-owned  north west cattle farms who have been provided proposals due to their interest in GeoMoby solutions for tracking livestock patterns of movement, and water levels. Since HARVEST GeoMoby has grown steadily to 15 team members across 3 continents."
" The highlight has been the network building - from the companies in the Startup Network through to the connections at both dinners. We greatly appreciated the open sharing of experiences and knowledge from the founders who understood the path we are all on. We felt very well prepped for the investor dinner through the sharing of contacts and allowing us to be well and truly integrated into the investor community."