Strategy and Commercialisation
We provide strategic consulting and agile programs to facilitate innovation for businesses of all sizes and support broader sector collaboration.
We help organisations and individuals successfully commercialise their research to bring new innovations to market.
We take a structured, proven approach to commercialising and enhancing the impact of research.


Our outcomes focused programs feature interactive workshops, industry engagement and mentoring that strengthens the research outcomes and potential to build a strong business.


Our facilitators and expert mentors have a unique blend of industry, research, government and entrepreneurial experience.



We bring expertise in proven entrepreneurial skillsets and strong networks across many sectors to those doing primary research.
Innovation Cluster was awarded a contract with the Department of Jobs, Tourism, Science and Innovation (JTSI) to facilitate the Science Industry PhD Fellowship program. The program encourages linkages between researchers and industry, adds value to the PhD experience and strengthens research impact in economic high growth areas, such as life sciences, cyber security, automation, including robotics and artificial intelligence, new energy industries, and data science.


Our role was to play 'match maker' between high quality PhD researchers and industry projects requiring research expertise. We matched 59 applications and the top 23 were selected for the program. Each project received $30,000 stipend towards the PhD project with support from both industry and academic supervisors. IC is also delivering a professional development program for the 23 fellows that focuses on project management, commercialisation, presenting, networking and career development.


Photo: University of WA. Round two JTSI fellowship recipients with Chief Scientist of Western Australia Professor Peter Klinken AC
Innovation Challenge: Waste Water for Breweries & Wineries
Over 50 brewery and winery businesses, university researchers, environmental consultants, service providers, local and state government representatives, came together to connect and collaborate on wastewater challenges impacting south west wineries and the rapidly growing craft brewery sector.
Working in small teams to unpack the problems, themes emerged around education, end-to-end expertise and support roles; funding and shared infrastructure to support wastewater innovation; reclassification and new regulatory definitions to align with site variability, and an appreciation of individualised outcomes.
The creative solutions generated were then pitched in front of the crowd to an expert panel. 
Innovation Cluster is a sponsor, host and facilitation partner for Inspire + Collaborate's professional and personal development series, including interviews with leading women in business, workshops, networking opportunities and a celebration of the strength and diversity of our regional community. 


Managing Director of Innovation Cluster delivered  a workshop on 'How to nail your business strategy" which included refocusing your business vision to your core values, creating an agile strategic plan, being accountable for implementing the strategy and bringing your team into the strategy.


Photo: Jodie Berry/Studio Berry.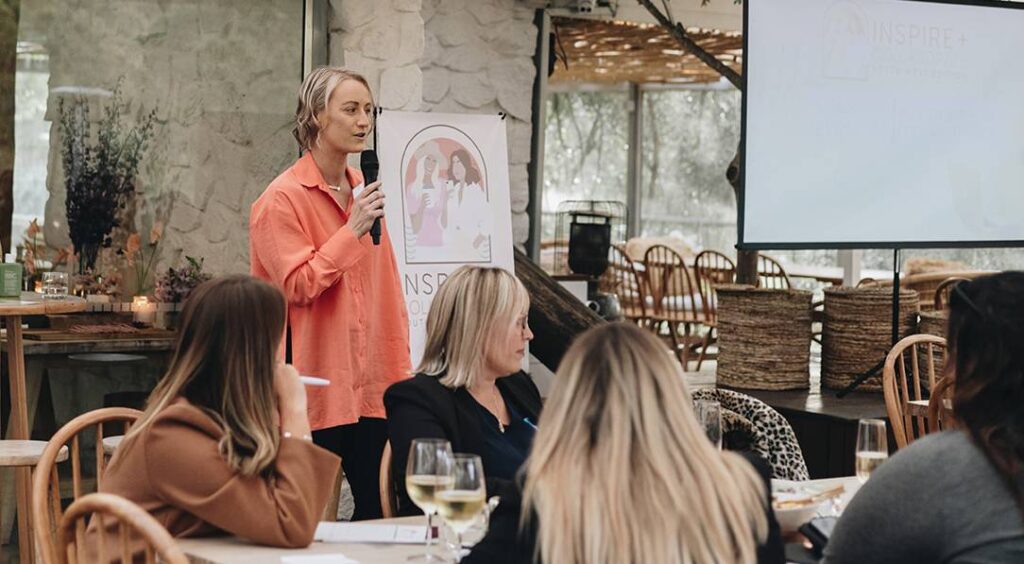 Research or higher education organisation?
"What an incredible experience the Iron Ore Circuit Hackathon was last week! An outstanding group of industry professionals, academic experts, programmers and students who faced the challenge of developing innovative, data-driven recommendations to improve the efficiency of our iron ore loading circuit. The event wouldn't be the success it is without your great advice and facilitation."
"The CBH/Innovation Cluster workshop was a great success with ideas identified that could generate millions of dollars of efficiencies for CBH's grain supply chain. Not only were great ideas generated but the cross functional, design thinking approach allowed the team to think of problems in a new way and provided valuable training for them to take back to their day job and help ensure we can keep the idea and cost savings coming."
"I have worked with Dr Tash Teakle from Innovation Cluster on a range of projects for more than 4 years. Her professionalism, innovative ideas and ability to establish productive working relationships with diverse people have seen her implement programs that have had far reaching impacts, notably her success in bringing all of the State's universities together to form an ongoing collaboration to support PhD students. She has extensive knowledge of the state's agricultural sector and a strong network in this space."
"The Waste Water for Breweries and Wineries Innovation Challenge was a great day! You can't underestimate the power of having multiple industries in one place to aid in problem solving."
"We cherry pick the hackathons we participate in, dependent on how distinctive the challenge put forward is. The Southern Ports Hackathon was unusual in that it was a data analysis challenge which attracted academics, a government research body as well as commercial organisations like ours. We're looking forward to meeting with Southern Ports in the coming weeks to determine the viability of our operating method and how feasible it may be to the digital transformation that is happening across its ports."