Peter Rossdeutscher received the prestigious 'Achiever of The Year' Award at the The INCITE Awards last week. This peak award recognises an individual's outstanding contribution to the ICT industry in WA. Peter is the CoFounder/ Director of Innovation Cluster and AgriStart.
Celebrating 30 years, the INCITE Awards is the longest running tech awards program and the premier event in ICT for Western Australia.  Powered by the Western Australian IT and Telecommunications Alliance (WAITTA), it showcases ICT innovators from across the State.
Innovation Cluster's Managing Director Tash Teakle said "We are excited that Innovation Cluster's co-founder Peter Rossdetuscher has been recognized with this award. Peter has been a great mentor to me personally and inspired many tech businesses."

"the INCITE Awards are an important showcase of the fantastic ICT solutions and innovators across Western Australia. This particular recognition highlights the impact of the many, many collaborators working across the State to build growth pathways so that everyone can benefit from technology, innovation and entrepreneurship."

Peter Rossdeutscher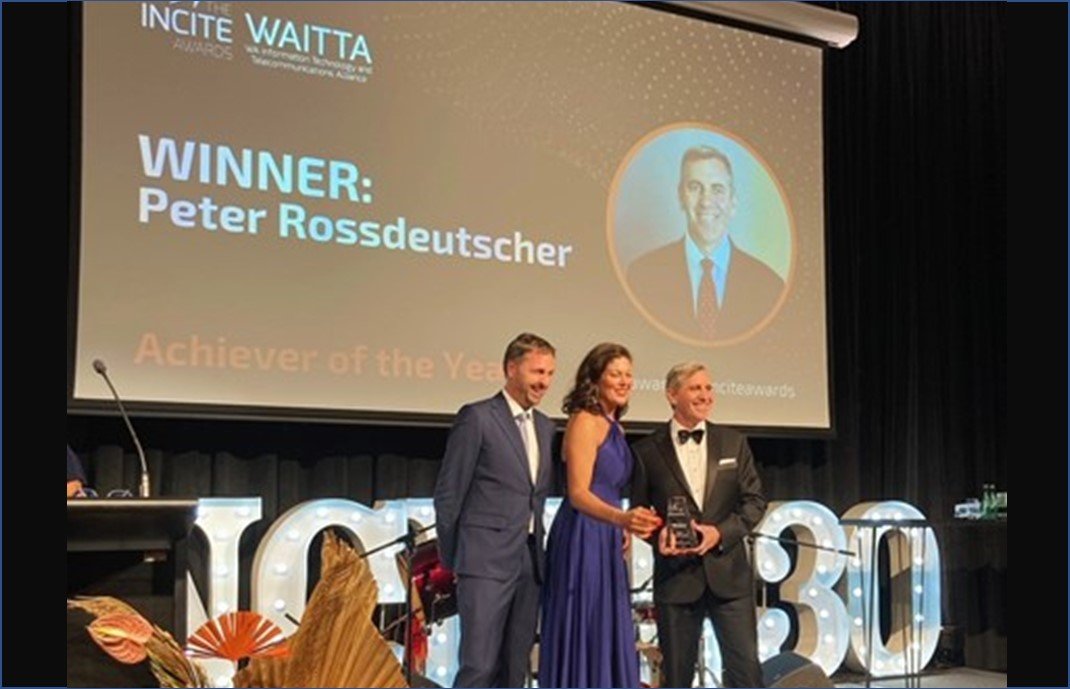 Other Award winners on the night included Avicena Systems, Vix Technology, East Metropolitan Health Service, Curtin University, Edith Cowan University, Rio Tintoand Charlie Gunningham.
The Australian Computer Society (ACS) founded WAITTA in 1991 to recognise outstanding performance and contributions by members of the ICT and telecommunications community in Western Australia. The Australian Computer Society is an association for information and communications technology professionals with over 45,000 members Australia-wide.