"Product/market fit needs to revalidated in every market". Excellent advice from Andrew Coppin, Managing Director of Farmbot Monitoring Solutions and Chair of AusAgritech, at the first HARCEST 5 Masterclass – Building a Sustainable Agtech Business

The HARVEST cohort had the opportunity to hear the Farmbot story and the 3 year journey it took them to get commercial. Andrew highlighted the need to understand the grower problem in detail and focused in the early days on keeping the business lean (yes they even did the Steve Jobs and worked out of the garage). Part of the Farmbot capital strategy has been to have investors who are also customers, or corporates in their supply chain and family offices with an interest in agriculture.

The theme of financial resilience was explored through an online session with Simona Hughes CA Hughes, Managing Director of Financial Utilities focusing on key profit levers for startups. The cohort also got the opportunity for QnA with Philip McVeigh, WA's General manager for Small Business banking at Commonwealth Bank – thanks for giving hope that banks will still consider funding startups!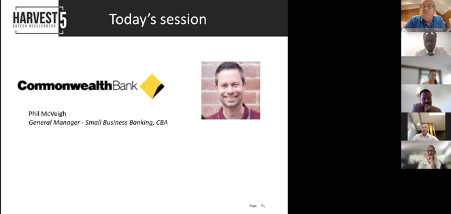 The next masterclass in the HARVEST schedule, Future Technologies for Agtech Innovation, commenced with Annie Brox, founder and Managing Director of highly successful tech innovator, manufacturer and service provider Origo.farm. Origo's unique systems enable farmers to both monitor and remotely control on even very large broadacre and remote livestock operations. Annie impressed on the cohort that Origo's systems are continually being enahanced from experiences and feedback from their customers.
Next up was Nick Prevost, Director of Mining, Inmarsat who provided an overview of solutions targeting key pain-points for farmers that are enabled by satellite.
In Masterclass 3, Strategic Expansion Planning and High Growth Markets for Agtech, we heard from Simon Tarmo, Senior Trade Consultant & TradeStart Advisor, Agribusiness Food and Trade, Department of Primary Industries and Regional Development WA about the support available for startups in key export markets
The masterclass was held at C Y O'Connor ERADE (Education, Research and Development, Employment) Village Foundation in Dandalup, an organisation that provides facilities for independent and sponsored research, with an emphasis on agriculture.
We then heard from Matthew Roesner, Director of Precision Agronomics Australia, a Western Australian based company developing the innovative i4M range of farm equipment control systems, mobile apps and web services, and their experiences with exporting.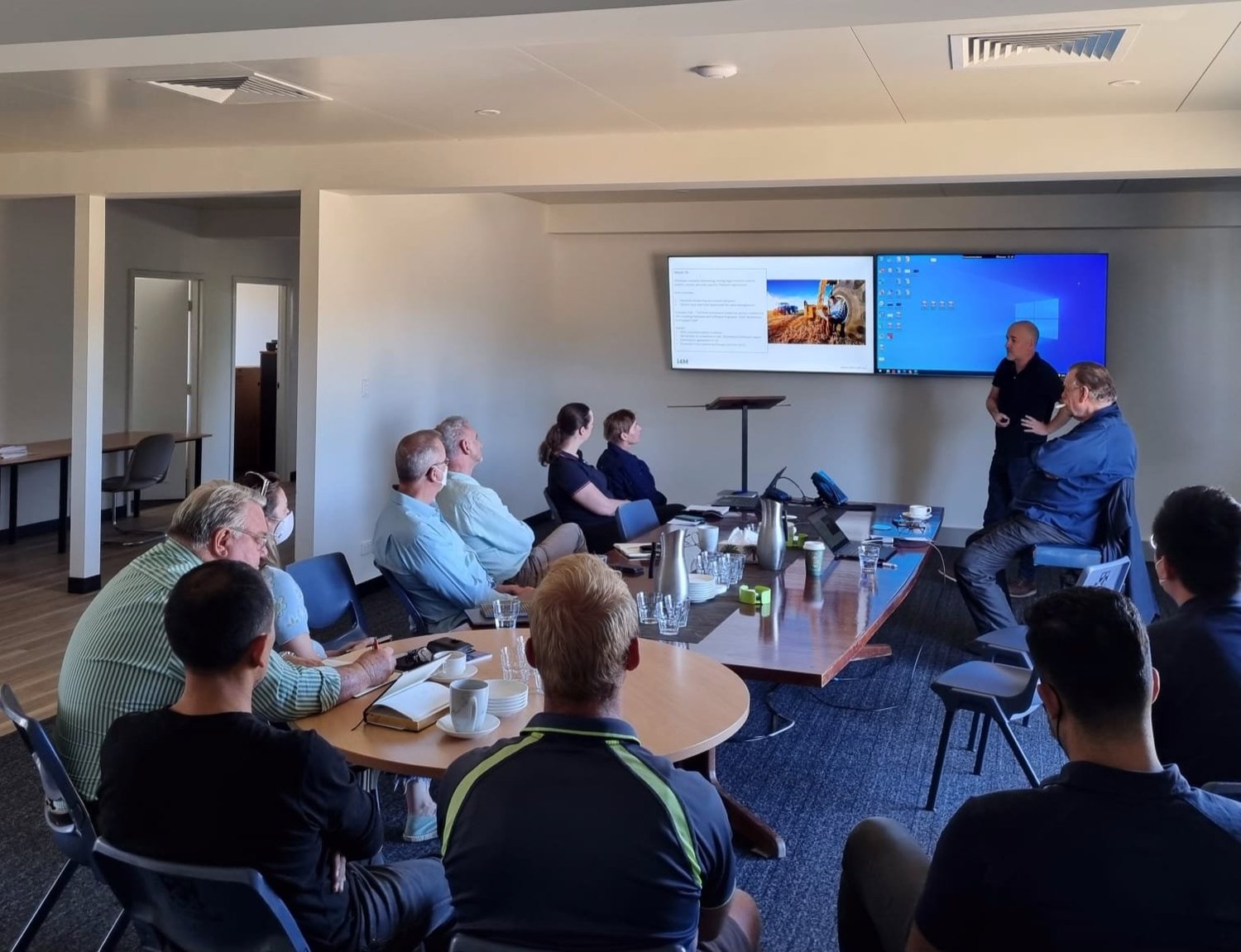 The 4th installment of the HARVEST masterclass schedule for 2022 covered Connecting to Agtech Customers -Agricorporates and Growers included two panels, the first focusing on grower challenges and tech adoption, and a second discussion featuring representatives from agricorporates providing insight into new innovations and collaborating with startups.
The grower panel featured Belinda Lay (Esperance Zone Innovation Group), Sue Middleton (Brennan Rural Group), Frank D'Emden (Living Farm) and Wesley Lawrence (AxisTech and WA Farmers). Discussion covered challenges experienced by growers, including connectivity in remote areas, being 'time broke' and staff shortages, as well as what drives growers to adopt new tech. The panel shared some tips for startups wishing to conduct trials with growers.
Sean Webb from CBH provided some helpful background on innovation projects at CBH, and how agricorporates connect start-ups into the supply chain.
Guest speakers on the agricorporate panel – Grey Johnstone (CSBP), Will Alston (Harvest Road), and Roopwant Judge (Grains Research and Development Corporation) offered diverse perspectives and experience. The panellists discussed working with start-ups and key emerging technologies.
Roop raised GRDC's $50 million GrainInnovate Fund supporting start-ups that help to drive the future profitability and sustainability of grain growers in Australia.
Advice from the panel included suggestions to know your figures, work with universities where possible, and understand how your tech fits in with other innovations and solutions that are important to agricorporates.
So what are the best strategies for agtech startups to gain a competitive advantage from their IP? Masterclass 5: Business Matters – Intellectual Property (PI) P and Strategic Marketing was once again hosted by our program partner Wrays, and IP experts from Wrays, Albert Ferraloro and Michael Pasquale, provided participants with an overview of trademarks, patents, registered designs, copyright and trade secrets.
For each area of IP, common myths were dispelled to set the cohort on the right path to protecting their business names, logos and tech. Albert recommended capturing all information about your business before determining what to protect and how, and explained that IP should be managed like any other important business asset. Albert advocated for revisiting your IP strategy as the business progresses.
Some very entertaining examples were given to demonstrate the often-outlandish nature of IP applications.
This session served as additional IP support to the HARVEST cohort, who have been provided the opportunity for an invaluable one-on-one IP health check as part of Wrays' sponsorship of the HARVEST program for 2022.
For the strategic marketing session, Kaisa Freeman from program partner CSBP discussed the processes and tools that startups should employ as part of a comprehensive strategic marketing approach. Using helpful examples from CSBP's own marketing processes, Kaisa talked through the foundations, tips and tricks, while acknowledging that startups generally have limited resources available to them so some trade-offs may be necessary.
Kaisa emphasised the importance of knowing who you are and how you behave, understanding your customer (including mapping the customer journey), and creating an effective messaging strategy that will engage growers.
With IP and marketing support often requested by our cohorts, this masterclass delivered foundations in both areas that participants can readily apply to their businesses – leveraging their IP and relevant strategies to create an effective marketing campaign within available resources.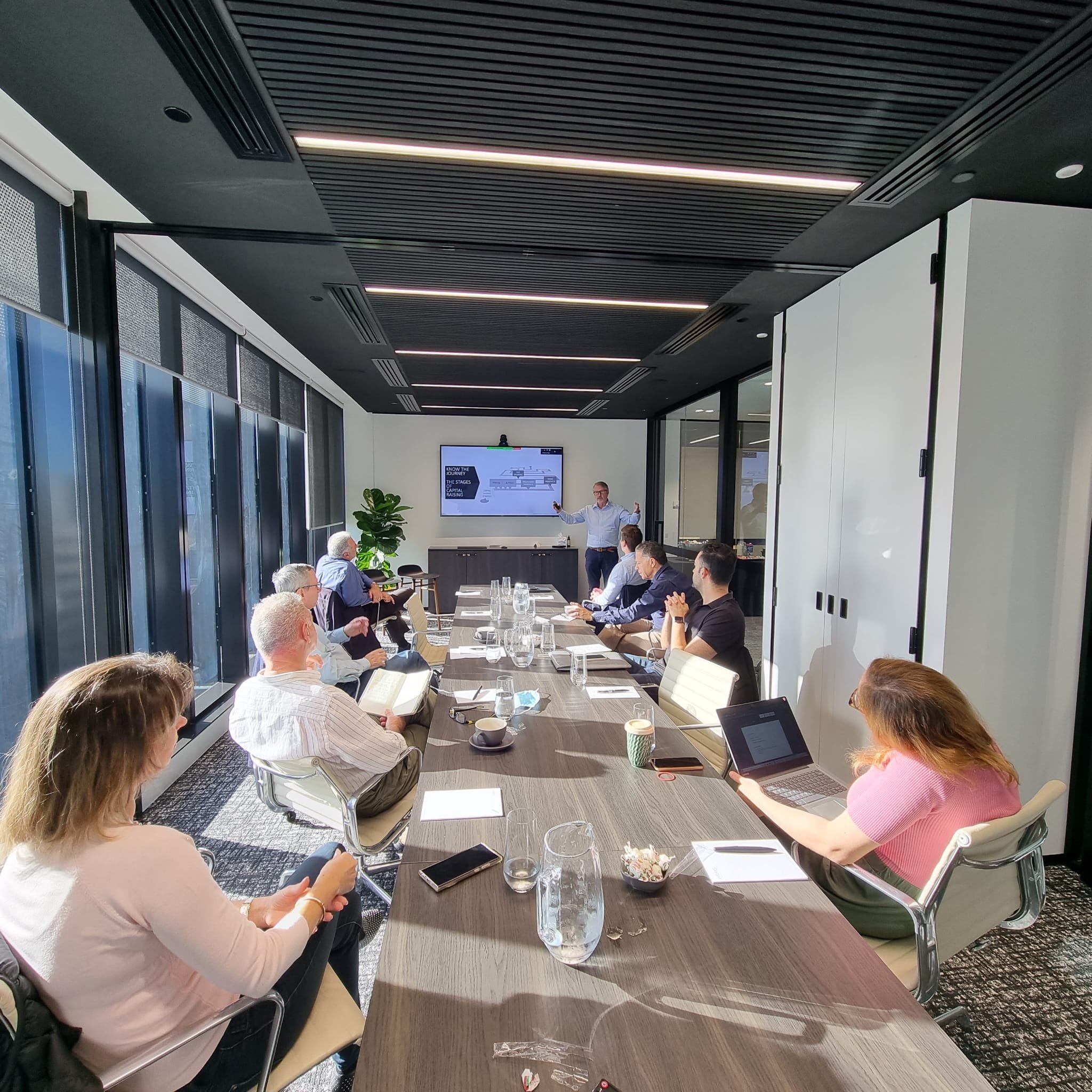 These valuable sessions for WA's up and coming agtech businesses are only possible due to the generous support of our sponsors Grains Research and Development Corporation, Department of Primary Industries & Regional Development (DPIRD), CSBP, AgriFutures Australia, Wrays | Intellectual Property, nbn™ Australia, RooLife, Atomic Sky, Innovation Cluster .
Thanks for helping these businesses to connect to the broader Australian Agtech Ecosystem!